I always feel a little bit nervous writing posts like these, because the people who read my blog all seem to be really groovy, so I don't want them to see how incredibly un-groovy I am by talking about this sort of thing. Still, this is something that I do feel the need to discuss, especially since I want to focus a lot more on how to craft a story. Please forgive me for this.
I feel that touching moments are some of the most important in fiction, and when done right, they really can be some of the most gratifying, both for the audience and for the creator. Of course, these are incredibly difficult to write properly, and they do take a lot of thought and skill in order for the audience to be properly affected by them. There's no set guide as to how to write them, because sticking to a formula doesn't really work for stuff like this. At the same time, however, most of these moments or scenes usually share a lot of elements in common, often slightly intangible ones. The most obvious of these elements is sincerity; you can't have something hollow masquerading as heartfelt or poignant. It just doesn't work. These moments are often quite delicate, because they reflect the fragility of the emotions they're meant to convey. If not written with honesty and with respect for the audience's intelligence, they can easily just shrivel up and die, or appear trite and synthetic. (Not that something being synthetic is necessarily bad, but we'll get to that in another post.)
As well as this, subtlety is hugely important. I think that, if you're a writer, one of the most important things to remember is that subtlety is hugely important, especially if you want your work to be taken seriously. I guess  most people are aware of how important subtlety and sincerity are (and I might seem a little bit trite myself for even talking about them, since I'm basically just repeating something that many others have said before), but at the same time, I do come across a lot of works that really don't understand how to be either. True, sincerity is more of a spontaneous thing that cannot just be generated at will, but it still has to be channeled properly into written form. Otherwise, it'll just fall flat. And as for subtlety, even some very mature, adult works can't get it quite right.  It requires extreme effort and concentration, and a lack of subtlety can sometimes even take away from how sincere your work comes across as. Sometimes, but not always. Sincerity and subtlety often go hand-in-hand, but there are times when something a bit cruder can have just as big an impact.
I find it kind of sad that, on one hand, you have lots of over-the-top stuff that looks like it was inspired by a focus group, and on the other, you have art that tries way too hard to be edgy and challenging, completely forgetting that having a softer side doesn't make you any less of an artist. Of course, not all art needs something touching in it (because diversity is always essential), but being dismissive of that sort of thing is just immature. As for the focus group kind of stuff, I feel nothing but contempt for it. This can be kind of problematic, since there are some people who will actually get annoyed with you for that. There's quite a number of people who believe that, since something is just entertainment, you shouldn't bother thinking too much about it, which is an attitude I am strongly against. Just because I don't find melodramatic films like Titanic to be moving doesn't mean I hate anything romantic. I love romance in fiction, just a different kind. I prefer love stories and tragedies to be executed in a different way, with less theatrics and more quiet moments. Then again, who am I to judge which is better? I guess it's important to appreciate both.
Some of my favourite touching moments are ones that come from unexpected places, such as cartoons, or works of a normally very dark and edgy nature. These always seem to be some of the best, since they come out of nowhere, almost spontaneously. I guess this is because they don't really have any need for moments like this, and yet they put them in anyway. It isn't because the creators felt they had to do it to satisfy their audience, but more because they wanted to satisfy themselves. When something like this happens, it isn't even that the work in question is showing hidden depths or anything; it's just that they're showing a side to them that we hadn't really noticed yet. The work's scope was already broad enough to include heartwarming bits or tearjerkers, which is obvious because of how well the creators can balance all the different moods; we just hadn't had the chance to be shown that yet.
I feel like this sort of thing reflects real life just as well as something that's more traditionally realistic. After all, in reality, everything isn't always silly, but it isn't always serious either. And I guess it's kind of sweet that even some of the darkest, toughest artists out there have felt the compulsion to create something bittersweet, because it shows that, no matter how much of a rebel you are, you may still need to express something more vulnerable. Even Throbbing Gristle, one of the most terrifying and shocking bands ever, has done a love song.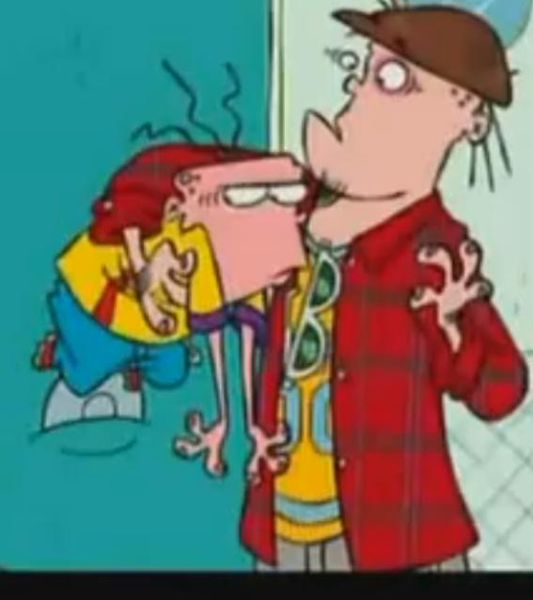 It's these that often haunt me the most, because of how perfect they are. I admire anyone who can achieve this sort of wonderful moment in something normally thought of as wacky and silly, or as sick and scary. And they're always so fleeting too, which bothers me because I want them to last longer, so I can stay inside of them forever. And I guess this brings me to one of the most important elements of a touching moment: it should be unsettling in some way. Even if it's happy and uplifting, it still has to make the audience a little bit uncomfortable. I don't necessarily mean uncomfortable in a bad way; I just mean that it affects them so much, they cannot get it out of their minds, and it troubles them as they try to make sense of it. Because, for something to be poignant or a tearjerker, it has to be slightly inexplicable or mysterious, too. Nobody can truly explain why these powerful emotions are being felt, but that's what makes the work so engaging and so inspiring. You don't even have to write something that's obviously sad; often, people feel things that they cannot explain, and if you can convey these subtle, fragile emotions through art, then you have created something that is truly beautiful.